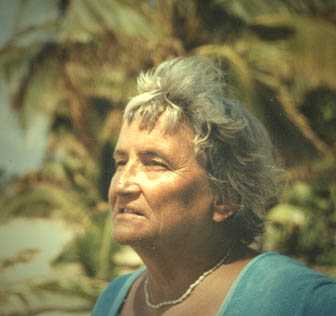 Jean Price Norman was a versatile painter and graphic artist. Born to a Quaker family in rural New Jersey in 1917, she displayed an early interest in drawing and studied at the Moore College of Art and Design in Philadelphia.


In 1938 she married Emerson Horne (1912 - 1962) and had five children over a period of 16 years. While raising her children, she kept a pictoral diary and the bulk of her art consists of sketches. Sometimes, however, she created more ambitious works. Though acquainted with artists such as Ruth Seidel, Kimball Mead, John Price, and Edward Hopper (1882-1967), Jean achieved neither fame nor financial success in her life.


Widowed in 1962, she moved from New Hampshire to Pennsylvania. During this period she drew mostly landscapes, character sketches, and flowers. She admired Andrew Wyeth (1917 - 2009) and his preference for muted earth tones can be seen in some of her works.


As her arthritis progressed, Jean moved to the warmer climate of central Arizona in 1966, then San Miguel de Allende, Mexico. During this period she met William Norman (1904 - 1984). They became inseparable friends and eventually married. Influenced by Will's post-fauvist tendencies, Jean's later works became more fluid and abstract. After Will passed away, she spent her remaining years in Maui, Hawaii. She was an active member in the Kihei Arts Council and League and produced drawings for The Friends Journal. By 1992 her arthritis had progressed so far that she was unable to paint. On September 21, 2000 she passed away in her sleep. This gallery, created by her son, spans a fifty year time frame.
| | |
| --- | --- |
| Title Index | - Chronological Index - |